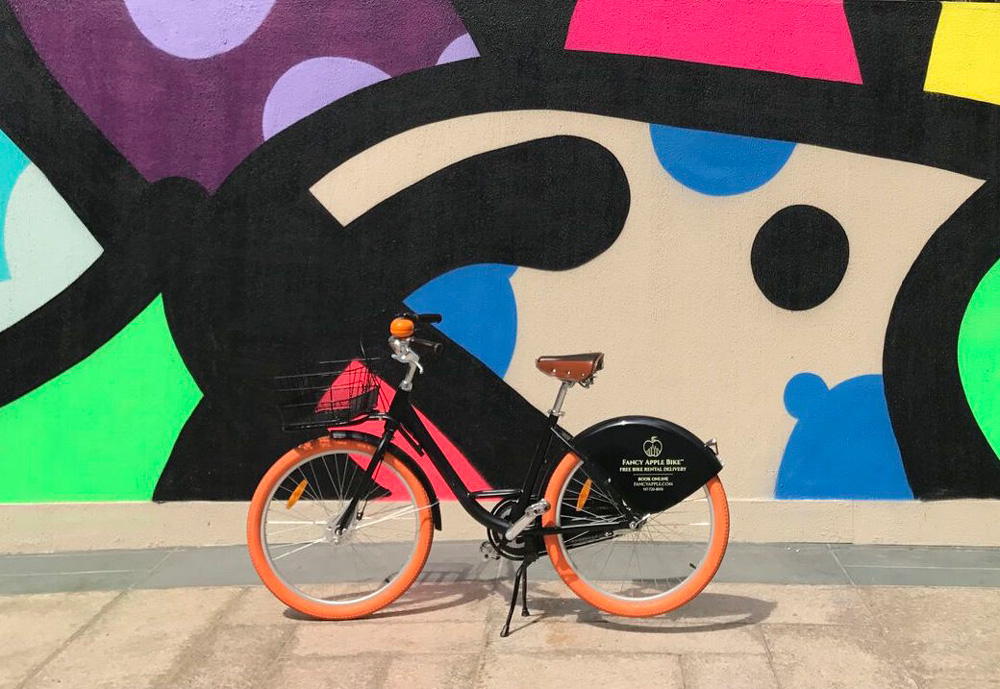 Walking the streets of New York, you learn three tips for survival: a) faster is better, b) make your own rules, and c) never step in front of a moving cab. The yellow swarm of iconic taxis (and now black Ubers) that dominate the roads have long been the city's first choice for getting around on wheels. That is, until now.
Though biking around town is nothing new, with more to see and do every year it has quickly become the best way to take in everything New York has to offer. Rent a bike from Fancy Apple (they'll even deliver it directly to you), and zip around the city exactly as it was meant to be enjoyed: fast-paced.
We spoke with the owner, Faridun Mukhtorov, to get his top routes for exploring the city on two wheels:
Through Central Park
"I've lived in this city for years, and I still can't get over the magic of Central Park. It never disappoints. If I'm with my niece and nephew we'll stop at the Chess and Checkers House, the Dairy, or the Alice in Wonderland Statue. If I'm by myself I'll take the more meditative route along the West Drive and go past the Sheep Meadow, Strawberry Fields, and Shakespeare Garden. The park is beautiful all year round, but my favorite time of year there is probably fall. I just love seeing the leaves change."
Enter at 59th street, just four blocks from WestHouse.
Uptown to Riverside Park
"If you've done Central Park before or are looking for a less tourist-packed spot with all the greenery of Central Park, take your bike up West End Avenue and over to Riverside Park. When I lived on the Upper West Side, I made an effort to visit this gem at least once a week. It's a peaceful spot and a straight shot along the Hudson River Greenway, which makes it an easier path for first-time riders. If you're up for a longer ride, you can take it to Columbia University at 116th street, or ride all the way to 125th and stop for lunch at a university favorite like Pisticci's or Max Soha."
Go west on 55th St. to head north on West End Ave. Turn left on 72nd St to find the southern entrance of the park at 72nd St and Riverside Dr.
Downtown to Chelsea
"Starting your ride in midtown is a real advantage because you have the entire city at your doorstep. When I'm in a downtown mood I'll take a ride through Chelsea, mostly because the people watching is so good. You'll also see a mix of New York architecture, from brownstones to modern galleries. If you want to hop off and check out some art, The Whitney Museum of American Art or the Rubin Museum of Art are two favorites. The High Line and Chelsea Market are also close by."
Take 7th Ave to reach this eclectic neighborhood, which stretches from 34th to 14th streets.
East to the East River Bikeway
"For a longer ride, I'll cut across town to the East River Bikeway. It's a great way to see the city without having to deal with a lot of traffic, and you can ride for miles. You'll get to see cool sights like the Chrysler and Empire State Buildings from afar and the East River Park. You'll also pass under the Williamsburg, Manhattan, and Brooklyn Bridges, which is always exciting. If you want to make a day of it, take the path all the way to its end at the South Street Seaport."
From midtown, enter the path at 34th St and FDR Dr and ride to your heart's content.
"I usually take a break from my exercise routine while I'm on vacation, but if you want to stay active all day, ride your bike to the Chelsea Piers Sports and Entertainment Complex on 23rd Street. They have a bunch of different activities like rock climbing, indoor soccer, batting cages, ice skating, and bowling. If the weather is good, grab a drink at The Frying Pan when you're done."
Take 9th Ave downtown to reach the piers on 23rd St.