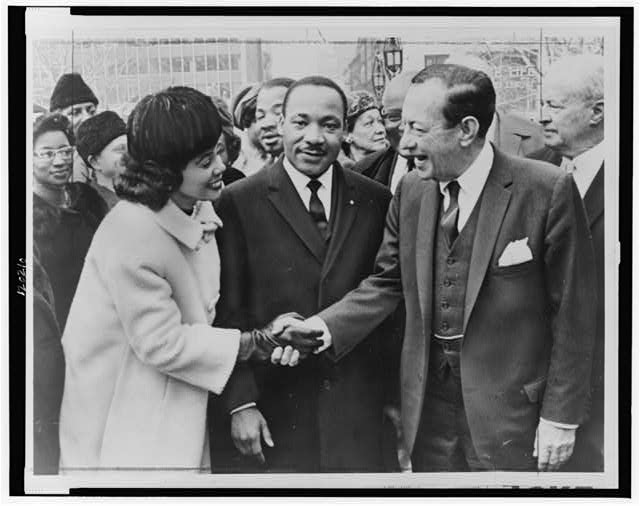 This Martin Luther King Jr. Day, many of us will be reminded of the hero's most formidable and powerful moments in history: the Montgomery bus boycott, the Detroit Walk to Freedom, the historic March on Washington, and his assassination at the Lorraine hotel in Memphis, Tennessee.
Though most popularly associated with his native South, New York City played a significant role in Dr. King. Jr.'s life. As an honorary New Yorker, the city had a profound effect on his development as a leader. To commemorate the beloved activist and honor the time he spent in our city, we've compiled a list of his most significant New York milestones.
1. Field Work in East Elmhurst, Queens
At just 20 years of age, young Martin Luther King, Jr. was assigned to the ministerial field work program at the First Baptist Church in East Elmhurst, Queens. Dr. King was assigned in the fall of 1950 under the guidance of Reverend William E. Gardner, a friend of the family who noted King's 'superior mental ability, clarity of expression, and impressive personality.'
2. Near-Death Stabbing at Blumstein's
Ten years before his assassination in 1958, King was stabbed at Blumstein's department store in Harlem. While signing copies of his book, Stride Toward Freedom, 42-year-old Izola Curry told Dr. King that she had been looking for him for five years and plunged a letter opener into his chest. He was immediately taken to Harlem Hospital for surgery, where one of his surgeons, who had left a wedding in order to operate on Dr. King, arrived in a tuxedo. Reportedly, the letter opener had been dangerously resting on his aorta, and Dr. King's surgeon later cautioned that a sneeze could have been fatal. Dr. King spoke about the incident during the last speech of his life, 'I've Been To The Mountaintop':
"I want to say tonight that I too am happy that I didn't sneeze. Because if I had sneezed, I wouldn't have been around here in 1960, when students all over the South started sitting-in at lunch counters."
3. Commencement Address at CCNY
During the heart of the civil rights movement in 1963, City College president Buell Gallagher invited Dr. King to speak at the school's commencement. Despite the momentum gaining in the South, Dr. King agreed and momentarily left the battle in Birmingham to travel to New York and give a rousing speech to the graduating class at Lewisohn Stadium:
"As you move out in your var­ious fields of endeavor, you will be moving into a world of catas­trophic change and calamitous uncertainty."
4. Egged in Harlem
Later that summer, Dr. King was egged outside the Salem Methodist Church. Nearly five hundred people awaited his arrival, including the suspected group of Black Nationalists responsible for the attack. Earlier that day, Dr. King had spoken in Brooklyn and criticized the group saying: 'There are those among us who call for a separate [Negro] state. This is wrong.' Afterwards, Dr. King remarked on the incident:
"I have become accustomed to white mobs in Mississippi and Alabama, but I have not yet adjusted myself to what just happened here in Harlem."
5. Becoming an Honorary New Yorker
After the fatal shooting of a 15-year-old boy in 1964 by an off-duty cop in Harlem, riots exploded throughout the borough. Violence was at an unexpected high that summer due to the upset and unrest after the killing. In an effort to cool tensions, Mayor Robert F. Wagner invited Dr. King to New York on a peace mission. On December 17th, the mayor presented Dr. King with a medallion in the City Council chamber of City Hall and proclaimed him an official honorary New Yorker. The reception was held in the Empire Room of the Waldorf Astoria. It was just one week after Dr. King had accepted the Nobel Peace Prize in Norway.