An Interview with Jacques Torres: King of the Chocolate Easter Bunny
03/24/16
Master pastry chef Jacques Torres loves Easter. For Torres, Easter is a celebration of spring, life and seasonably warmer weather—something he is familiar with having grown up in Bandol, a sunny seaside village in the south of France. Every year, he brings the traditions of his childhood hometown, where Easter is widely celebrated, 4,000 miles across the Atlantic to New York with his famous chocolate Easter bunnies.
We talked to Torres recently about the inspiration behind the bunnies, and discovered five things we didn't know about the iconic Easter holiday confectionary.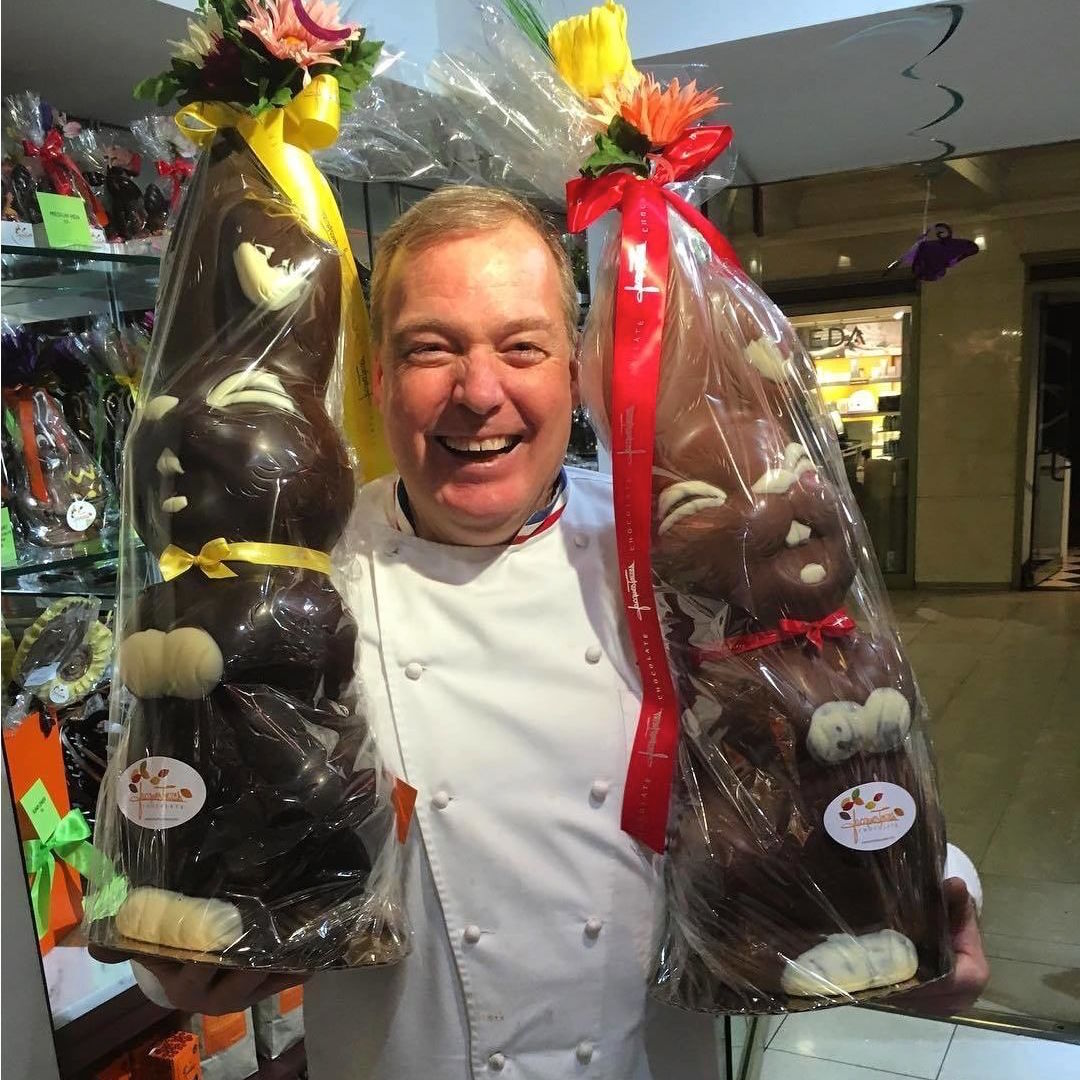 1. Torres was advised against making chocolate Easter bunnies.
Before opening his own chocolate factory in 2000, Torres was told that Easter isn't big in America and that Halloween should be his focus. Thankfully, Torres disagreed. While his Brooklyn factory produces chocolate year round, he prefers Easter to Halloween—a sentiment he brought to America from his childhood in France, where "shops decorate their storefronts with bunnies and eggs every Easter."
2. The French-inspired bunnies are made in New York with Belgian chocolate.
Having lived in New York for more than 25 years, Torres knows what his American customers want. "Italian, French and Spanish chocolates are too strong—too whimsical," he says. Belcolade, a Belgian chocolate brand, produces chocolate exclusively for Jacques Torres. "Belgian chocolate has a deeper flavor. That's what I like to serve in my shop."
3. Over 10,000 pounds of chocolate go into the production of the bunnies.
Five tons of Belcolade chocolate goes into making the substantial Giant Smiling Bunnies, which measure over two feet tall. "Our factory is packed with bunnies," Torres tells us. "We don't have enough space in the stores for all of them!"
4. The process is quicker than you might think.
Making a single chocolate Easter bunny takes only "one minute to thirty minutes, depending on the size," Torres revealed. His Giant Smiling Bunny—the largest offered—takes the most time. After crafting the mold for the bunny, it's as simple as pouring the chocolate and waiting for it to dry, before adding the finishing touches.
5. Torres is French, but his chocolate is quintessentially New York.
This year, Torres will offer a Williamsburg Bunny. "Williamsburg has long been an artist community, and we want to celebrate that." The chocolate will feature what looks like strokes of yellow, red and green paint. Torres adds, "It's only natural flavoring, of course." While these and the Giant Smiling Bunnies are only available in-store, the Jacques Torres website showcases a variety of Easter chocolates that can be purchased online.
The specs for Torres's iconic Giant Smiling Bunny:
Weight: 5 pounds
Height: 2.5 feet
Price: $99, more affordable than some outrageously priced competitors
Multiple locations, including:
Jacques Torres Midtown: 110 E. 57th St., 646-852-6624
Jacques Torres Rockefeller Center: 30 Rockefeller Plz., 212-664-1804
Jacques Torres Dumbo: 66 Water St., Brooklyn, 718-875-1269
Photo by @jacquestorres.