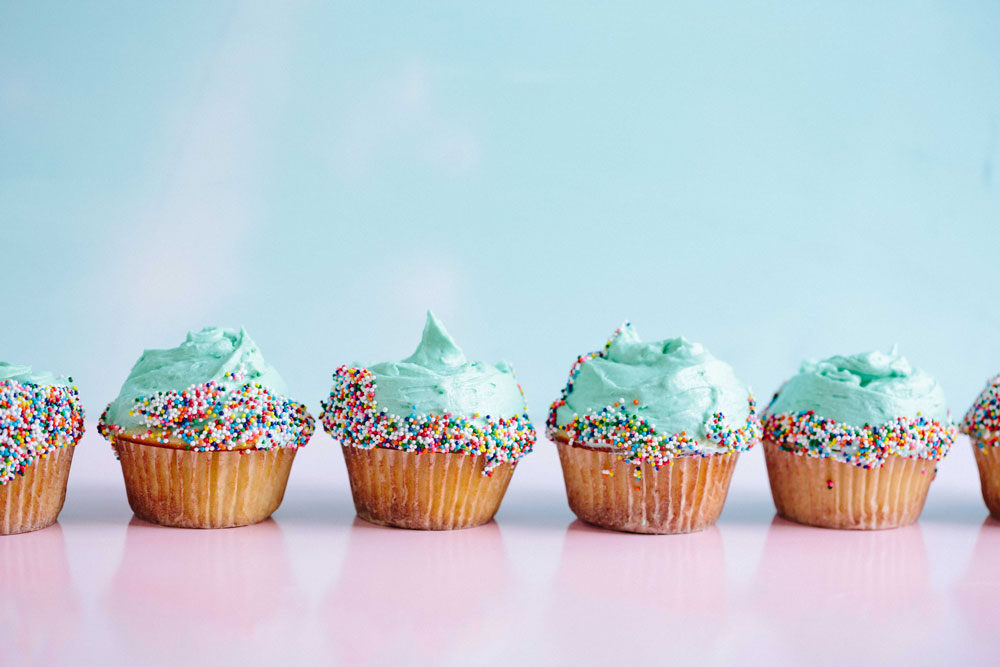 Let's be honest - there are few holidays as polarizing as Valentine's Day. Being single on February 14th means spending the evening in bed, binge-watching the least romantic series possible and avoiding the public crowds of happy couples and oversized teddy bears.
Oddly enough, spending the day in a relationship isn't always better. With decisions to make and plans to organize, it's easy to fall into the trap of overthinking: is the restaurant too stuffy? Are red roses cliché? Either way - it can feel hard to win.
We blame Hallmark for the oversaturation of pink hearts and saccharin-laced greeting cards at this time of year, but when it comes to Valentine's day, the real heart of the holiday is in the dessert.
Whether you're indulging yourself or your loved one, grab a bottle of champagne and celebrate with the best sweet treats New York has to offer.
Pies and Cakes and Cruffs, Oh My!
Sometimes, bigger is better. This includes Bubby's banoffee pie with bananas, dulce de leche, espresso, and fresh whipped cream. Pick-up a small slice at anytime, but if you call 24-hours in advance you can take-home a whole pie for the night.
Buttercup Bakeshop may be best known for their pocket-sized cupcakes, but their showstopper layer cakes are the perfect big-ticket winner for Valentines Day. Go classic with their German Chocolate or Lemon Cakes, or opt for the more adventurous Peanut Butter & Jelly or Hummingbird Cakes.
If deciding between donuts or ice cream is a struggle, satisfy both cravings with Stuffed Ice Cream's massive cruffs, or donuts stuffed with the ice cream flavor of your choice. From afar they look like the giant-sized Candy Land version of bagels - if cream cheese came in colorful flavors like 'Matcha Ma Call It' and 'Unicorn Poop.'
From Cocktail Bar to Dessert Bar
In recent years, New York has seen a slew of dessert bar openings, a craze most likely started by the popular Momofuku Milk Bar. With several locations throughout the city, take your pick from their cereal milk affogato, cake truffles, compost cookie cake, and blueberry and cream cookies.
For a slightly more straightforward offering, try Chikalicious' prix fixe dessert and petit four menu.
Spot Dessert Bar calls their sweet spread 'dessert tapas', encouraging a selection of at least three different treats per visit. Sample their signature chocolate green tea lava cake, coconut monkey bread, or honey buttered toast. Or, splurge with the $55 omakase option where the dessert experts select a tasting menu for you.
Rock n' Dough
If an entire menu of dessert is one step beyond your sweet tooth's limit, take your valentine to one of the many inspiring bakeries in the city for a modern twist on a classic pastry. Among Supermoon Bakehouse's creations are the pina colada and banana split sundae croissants, and the mocha butterscotch and white sesame and saffron donuts.
Chip in Astoria claims to have the recipe for the city's best cookie. Choose between the blueberry cheesecake, chocolate chip, nutella, and butterscotch toffee flavors.
The cronut fever has made its way across the world at this point, but the masters at Dominique Ansel still do it best. This famous french bakery reinvents some of the most recognizable treats, including their chocolate chip cookie shot glasses and kiwi sorbet bars.
For the Chocolate Lovers
It's hard to go wrong with chocolate on Valentine's Day. From bonbons to truffles and drinking chocolate, New York has some of the best chocolatiers in the world to choose from.
Start at Fine & Raw for a simple, artisan collection of house-made chocolates. Pick from one of their several bonbon and bar gift boxes to taste a little bit of everything that they make.
Head to MarieBelle for expertly crafted ganache sets, each covered with uniquely intricate and beautiful designs.
Mix a bit of savory into your chocolate at Nunu's, whose creative bonbon flavors include boozy sake and absinthe or spicy mezcal-chili. Find a seat at the bar and order a craft beer to go with your chocolate-dipped potato chips.
For some, the liquid drinking chocolate at Vosges in Soho is just the right remedy for a cold February night. Try one of their exotic truffles while you wait for the made-to-order drinking chocolate in either classic parisienne or the spicy aztec-chili flavor.