Six NYC Holiday Traditions to Visit This Year
11/22/16
New York City is one of America's best places to celebrate the holidays, with scores of attractions and traditions held throughout the month of December. Sometimes, however, the crowds, hassle or pure tackiness take away from the yuletide spirit. Here are three NYC alternate holiday traditions, along with three classics worth keeping.
Holiday Alternatives
Wollman Rink instead of Rockefeller Center Rink
Ice skating at Rockefeller Center is classic but cramped. We prefer the more spacious, and far more scenic Wollman Rink in Central Park. The 33,000-square-foot facility has sweeping views of the Manhattan skyline (much better than the Rock's below-level rink), and it's in the heart of our favorite NYC park. Skate rentals for $12.
Photo by @ekaterina_tsvetkova.
The Messiah instead of Radio City Christmas Spectacular
If you've already seen the Rockettes, venture to Lincoln Center and watch the New York Philharmonic perform its own annual Christmas special—Handel's Messiah. For five nights in December, the Westminster Symphonic Choir joins the orchestra in Handel's beloved masterpiece. Don't forget to stand during the Hallelujah chorus, a tradition dating back to 1756. Dec. 15-19; tickets from $33.
Photo by Chris Lee for @nyphilharmonic.
Candle Lighting instead of Tree Lighting
Didn't want to stand in amongst the throngs in Midtown during the annual Tree Lighting at Rockefeller Center? Head uptown to another of Rockefeller's creations, Riverside Church, envisioned by the industrialist in the 1920s. The country's tallest church holds an annual multi-denominational candle-lighting ceremony, during which visitors can sing their favorite Christmas carols in the neo-Gothic Nave. Dec. 18, $25.
Photo by @robauchs.
Classics Worth Keeping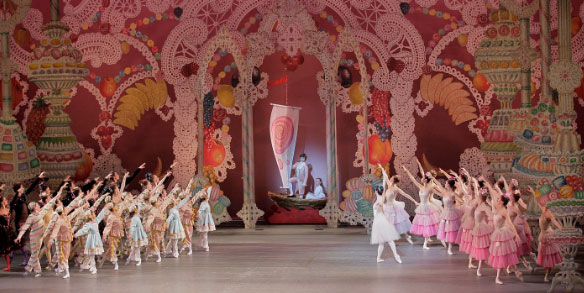 A cast of over 100 dancers pirouettes across the stage to George Balanchine's iconic choreography, all set to the score by Tchaikovsky. Through December 31; tickets from $65.
Photo by NYC Ballet.
Window Shopping on Fifth Avenue
Boutiques lining Fifth Avenue spend inordinate amounts of money on their yearly holiday window displays, much to the benefit of passersby. Don't miss the three B's: Bendel's, Barney's and Bergdorf's.
Photo by @rainaderrick.
Holiday Train Show at the New York Botanical Garden:
Model trains chug through 150 New York City landmarks, beautifully recreated with plants. Through January 16; $25 weekday; $30 weekend.
Photo by @nybg.